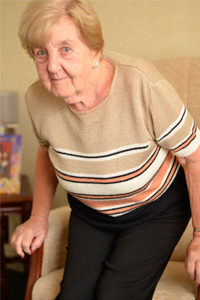 Retirement brings time for leisure, travel opportunities and interests.  There is time for activities such as golf, gardening, badminton, fitness classes and other activities. Many grandparents also help working parents by caring for their grandchildren – a pleasure for many but also a strain on the ageing body.  We can offer treatment and advice to help improve mobility, circulation and immune function, and reduce joint stiffness so that you can enjoy a full and active retirement.
As we get older the body needs a little more investment to keep it in good condition. The body can be likened to a car, in that it needs regular servicing and maintenance as it gets older.  With age, the body loses some of its elasticity and ability to adapt.  Most of us have been exposed to stressful physical or emotional events and have experienced injuries and postural stress.  The effects of these events can accumulate and gradually the body may find it more and more difficult to cope, and symptoms may start to appear.  The onset of health issues such as high blood pressure, digestive and circulatory disorders and arthritis can also have a noticeable effect on the body's energy and ability to perform.
Osteopathic treatment improves circulation around the joint and improves mobility.  It can reduce pain, ease swelling and improve range of joint motion.  Treatment to ease old strains held within the body will enable joints to work in a more balanced fashion and with greater ease, often delaying the need for replacement surgery.  If replacement surgery is finally needed, the body tissues are generally in better health and the recovery is swifter.  Treatment after surgery can also help to reduce recovery time.
As we get older, falls are more likely to occur, and with increasing age the body is unable to recover as quickly from any trauma.  This in turn can lead to the retention of strains in the body which can not only aggravate existing problems, but predispose to other illnesses.  Any continuing strain within tissues can make the joints more vulnerable to arthritic changes and cause undue fatigue as more energy is used in simple everyday tasks.
Osteopathy can benefit:
Arthritic pain
Rheumatic pain
Fibromyalgia
Neuralgia
Back and neck pain
Sciatica
Lumbago
Joint pains including the hip and knee from osteoarthritis
Shoulder and elbow pain
General aches and pains
Circulatory problems
Digestion problems
Cramp and muscle spasms
Headache
Inability to relax